Welcome
Media - Education - Science - Technology - Policy

GovEd Communications is an interdisciplinary media, education, communications & technology company, with three distinct areas of operation:

Digital media production for science, education, business & policy

Film & Video Production • HE, School & Local Authority Films
Educational Drama • Interactive Websites • Digital Archives
Broadcast Projects • Web Video Projects • Corporate Films

Education, media, design, marcoms & management consultancy

Project Faraday & School Building Design Services • Research
Curriculum Development • Science Communication • ICT
Project Management • Strategic Comms • Policy Development

Stand-alone technology, digital media & sustainability ventures

Carbon Visuals • Imperative Space • Space Signpost
FootageVault.com • LiVEPosters • GovEd Technologies

See more of our video projects

Click on the video player above to view a 2 minute showreel of some of our video projects. Please visit the Video section to find out more.


You can visit the Clients section for examples of who we work with, and read client experiences on our Testimonials page.

Please also visit the Projects section to read more about our work, and our support for climate change and sustainability projects.

You can now also follow us on Twitter: @GovEdComms
February 6, 2013 Imperative Space producing space engineering apprenticeship films Read more
January 23, 2013 Carbon Visuals commissioned to produce film for Adaptation Scotland Read more
November 19, 2012 Carbon Visuals' New York emissions film is global media hit Read more
November 5, 2012 Imperative Space completes 'Day in the Life' films Read more
October 26, 2012 Imperative Space selected for Earth Charter 'Pictures of Success' project Read more
October 22, 2012 GovEd completes Sheffield KTA videos project with Additive Manufacturing films Read more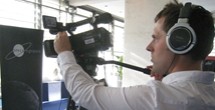 GovEd Communications provides broadcast-quality video production services for schools, local authorities, federations, public services, corporate clients and for a range of educational and communications uses. We are also involved in longer-form television and film production, event filming and media training.
Our recent clients have included University of Sheffield, UK Space Agency, Liverpool City Council, Scottish Fire & Rescue Service and Space Adventures. More.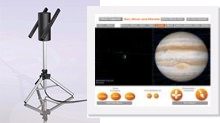 Space Signpost is a suite of interactive products and installations from GovEd Communications' specialist division Imperative Space, designed to enable citizens and learners of all ages to explore the solar system easily and 'on their own terms'.
The range includes a full-size, sculptural installation, a portable-USB version, and a software-only option.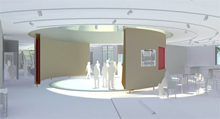 GovEd Communications provides a range of design-related services based on our pioneering work in DCSF's Project Faraday, including supporting formulation of educationally-informed design briefs, stakeholder engagement, curriculum advice and ICT consultancy.
We have taken the GovEd design approach to schools and science centres around the UK and internationally, working on cross-curricular and whole-school projects as well as in the development of new science facilities. Read more.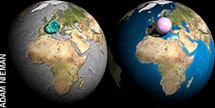 As part of our commitment to supporting sustainability projects GovEd Communications has partnered with specialist climate change consultancy CarbonSense to create a joint venture company called Carbon Visuals Ltd.
The new company is taking forward development of the ground-breaking 'Carbon Quilt' project and related services, designed to enable effective education and communication around climate change. Read more.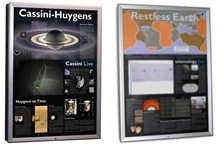 GovEd Technologies is a dedicated area of our business focussed on developing intuitive, interactive technology products for education, outreach and science engagement, including the innovative LiVEPosters range of products.
For more information, please visit the Technology section.