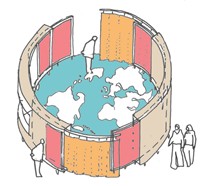 Project Faraday was a major research and design project to radically rethink how science is taught in schools and develop designs for new science facilities in UK schools.
The project commenced in December 2006. The main research and design phase concluded in December 2007. Follow-up activity is on-going, and many of the partner schools involved in the project began construction of their new facilities following this phase.
Download details of GovEd's interactive technologies from Project Faraday shown at BETT 2009
Read more about GovEd Technologies

GovEd Communications led a complex consortium, consisting of a diverse range of established and leading organisations in varied fields, along with multiple sub-contractors, partner schools and additional stakeholders. The project partners included a major architectural practice, a furniture and equipment specialist, a leading research institution, a science policy think tank and a cutting edge digital media and design studio. GovEd also facilitated a major stakeholder consultation event and a website across the whole project.
The project was funded by the UK Government's Department for Education and Skills (DfES) (now called the Department for Education - DfE). The stated aims of the project were as follows:
To support, through excellent and appropriate facilities, the drive to improve attainment levels in science and encourage more young people to take science at higher levels.

To fully reflect the requirements of the new science curriculum.

To explore the ways in which the whole school building and its grounds, not just the laboratories themselves, can enable and enhance innovative and interactive methods of teaching science.

Develop design ideas that can act as 'exemplars' for science provision, to inspire and inform all future building projects.

The early stages of the project involved a substantial literature review, and research visits to schools in the UK and USA. This was followed by the development of architectural designs and the development of interactive experiments. We have worked closely throughout the project with partner schools at various stages in their build programmes in developing ideas and designs.
The GovEd Communications consortium included some the UK's leading experts in science education, school building design and ICT in education: Feilden Clegg Bradley Studios, Alligan, Futurelab, Soda and Newton's Apple.
Please click here for details of the outputs from Project Faraday and how to download the full publications.
Please click here for further information about the research activity conducted during the project.
Short clips from the videos we produced as part of the project are viewable on our Video page. We are continuing to work with a number of schools and instutions on implementation of the ideas that emerged from Project Faraday. Further details about this can be found here.